Ikador
Timeless elegance & exclusive privacy
Hoteli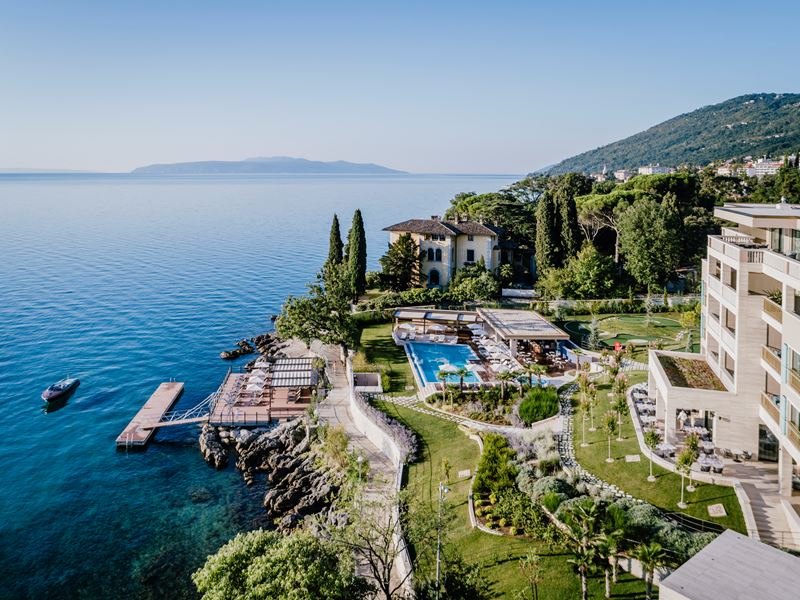 Explore the magic of the Opatija Riviera in uncompromising comfort and luxury of the Ikador Hotel.
Situated in the heart of the Opatija Riviera, near the famous Opatija, Ikador is an oasis of noble harmony and uncompromising luxury. Allow yourself to relax in style, aided by our impeccable personalized service. Our Maestro, hotel experience manager, will take care of every aspect of your stay, creating unforgettable experiences and lifelong memories. Sophisticated and luxurious interior design, contemporary architecture, rich Mediterranean park and exquisite service make Ikador hotel a favourite haven of modern hedonists.
Ikador Luxury Boutique Hotel & Spa with its 9 spacious and elegant rooms and 7 luxury suites, offers a variety of facilities and services in a carefully designed palette of flavours, scents, emotions and experiences. The presidential suite of the hotel extends through the entire private penthouse floor of the hotel and boasts an extravagant 240 square meters of impeccable interior and panoramic terrace. Restaurant Nobilion is a place of true hedonism dedicated to Mediterranean cuisine based on top-quality local produce and premium wines. An ideal sanctuary for mind, spirit and body harmony is our Ikalia Spa, a place devoted to wellbeing and relaxation offering luxurious programs and treatments, as well as high-end facilities. The hotel also features an outdoor swimming pool with heated seawater, a private beach with a private boat docking (drop off), a free of charge garage for hotel guests, a charging station for electric cars, smart mini golf course, boules court, shuttle service, as well as Riva speedboat rental.
The pride of Ikador is certainly the Riva Lounge – a prestigious concept of the famous Italian Riva Yachts brand, including the Riva Lounge swimming pool area designed in the style and spirit of Riva yachts, the Riva Privee - a private chef's table and dining area at the Nobilion, and a very own Riva Aquariva Super speedboat the guests can use to explore the Kvarner bay and its islands.
Ikador Luxury Boutique Hotel & Spa is a proud member of the prestigious association Leading Hotels of the World, Virtuoso, Traveller Made.