Villa Angiolina
Learn about the role of tourism in the history of Opatija
Culture
Opatija, a favourite destination in the Kvarner region, will reveal to you its interesting history as a tourist resort in the Croatian Museum of Tourism located in the magnificent Villa Angiolina.
Opatija is the oldest tourist destination in Croatia, with a tradition dating back to the 19th century. Acquaint yourself with its interesting history and find out why this town with its Mediterranean charm has continued to attract visitors for many decades. Visit the Villa Angiolina, a former summer residence and today the seat of the Croatian Museum of Tourism. The museum hosts various exhibitions, workshops and projects that will explain to you why Opatija was a favourite destination for many historical figures.
History of Villa Angiolina
This is the building that certainly marked the beginning of the tourist epoch in the history of Opatija. Pending its building in 1844. (actually a reconstruction of an older building owned by baron Haller von Hallerxtein); Opatija was relatively large settlment with about 120 houses, clustered mainly around plots further away from the sea cost and chiefly oriented towards fishing and seafaing. With the arrival of Iginio Scarpa, a partician from Rijeka, and building of his summer house Angiolina (named after Scarpa's then already deceased wife, originating from the Sartori family), Opatija opened her doors to a whole line of guests and passengers, among whom it is noteworthy to mention the Austrian empress Mary Ann, the botanist Heinrich Noë, the croatian ban Josip Jelačić and others who in their enthusiasm for the local vegetation and climate spread the fame about Opatija and thus prepared the ground for the future health resort.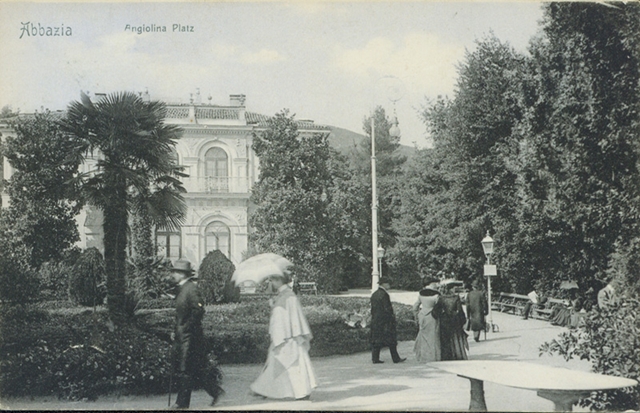 After Scarpa and his son Paolo, who as early as 1869 entertained of the idea of establishment a sanatorium, the villa was owned by the Moravian nobleman Chorinsky, the Southern Railways Company (during their proprietorship the villa accommodated the heirs-to-the-throne couple Rudolf and Stephanie and their guest, the Styrian satirist Rosegger), the International Wagon-lit Society, the Health Resort Commission, and others. As the price of the villa rose and taking into account the fact that Iginio Scarpa purchased the entire grounds at the price of 700 florins, in 1919 the villa with the surrounding park full of exotic plants was sold for 2.5 million crowns. In Scarpa's time the meeting-place of the upper crust of Rijeka, thereafter the site of summertime entertainment on its terraces, during the end of the Austrian period of the seat of the Health Resort Commission with an orchestral pavilion and lively promenade in front of its southern facade , today the villa is a headquarter of Croatian Museum of Tourism.
TICKETS:
Adults: 20 kn
Groups (more than 15 persons), per person: 15 kn
Students: 10 kn
Family ticket (for families with children of 10 years and older): 50 kn