Mošćenička Draga
A small coastal place known for its beautiful pebble beach and peaceful surroundings
Historical towns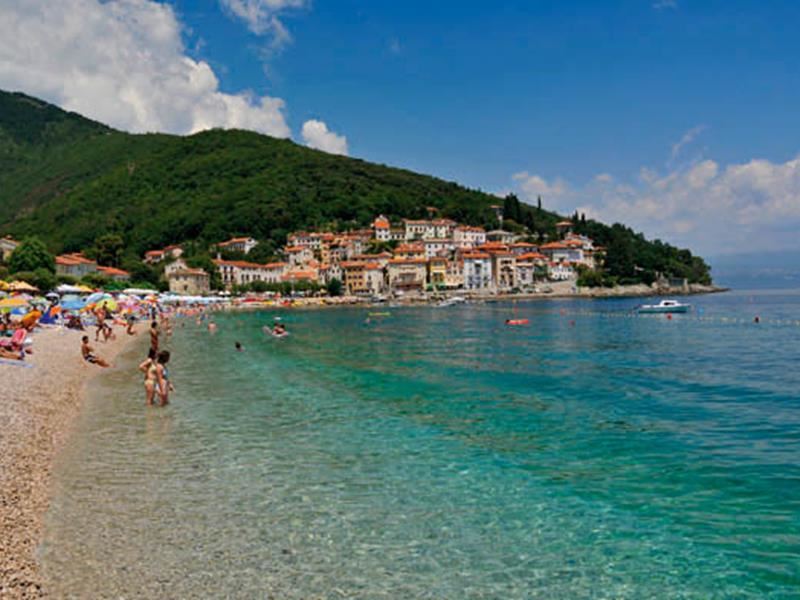 Emerging from the spot where Mount Učka descends into the sea, Mošćenička Draga combines the best of both worlds. Sipar beach is one of the most beautiful in Kvarner. There are also many secluded spots along the coastal promenade, where one can enjoy the sea and sun on small natural beaches, away from the crowds and prying eyes. Over time, the people of Mošćenička Draga have created numerous pathways across the slopes of the mountain. In the past, these were used primarily as a means of communication between the villages in the hinterland and the fishing harbour on the coast, but today these paths are ideal for pleasant walks through wonderful natural scenery. The Trebišća-Perun Mythology and History Educational Trail is particularly interesting, as it gradually reveals to visitors the basics of old Slavic beliefs and mythology through the vestiges found along the trail like in a detective story.
Mošćenička Draga is particularly popular among visitors looking for a peaceful, relaxing holiday. In the past, it was primarily the nobility that used to come here in their carriages from Opatija to enjoy the quiet romantic surroundings of the white fishing boats and red-roofed houses. Today, modern tourists want to recharge their batteries by spending time outdoors and swimming in the crystal clear sea. Mošćenička Draga offers them all types of accommodation: hotel rooms, a well-equipped campsite, and private accommodation in typical coastal houses.
If you prefer a more action-packed holiday, Mošćenička Draga has a lot to offer: hiking, cycling, and kayaking are some of the activities that you can do during your stay here. There are also various events such as fish festivals, traditional sailing and rowing boat regattas, and events dedicated to local cuisine and specialities such as Kvarner scampi.